As many great ideas do, this one started with chef Dan Barber, seed breeder Michael Mazourek and Row 7 Seeds. Their experimental Tetra Squash was bred for the 360° eating experience: the immature fruit, young stems, blossoms, and mature squash. All delish. The chef-seedsman even prepared the stems for me in his kitchen. He sliced the fluorescent stalks like ziti, and quickly sautéed them up into an homage to their carb-laden cousin. Squash stems?! For din-din?! What a revelation.
But why stop at the Tetra? It's about opening the mind rather than the specificity of the plant. Gardeners know there's no hard rule about what to harvest when. And when you anticipate a hundred full-grown squash ripening any minute, why not literally nip that in the bud?
Try clipping off a handful of immature winter squash and sautéing them up like a summer squash. Do like Chef Barber and prepare the young stems like you would ziti. Fried squash blossoms are a summer staple in our house. And if you've been presented with enormous blossoms, try stuffing a handful with a duxelles (foraged mushrooms a plus) and gently warming in a pan coated with olive oil. And finally, let just a few mature into their full adult selves, and eat through the winter. No squash-loving neighbors required.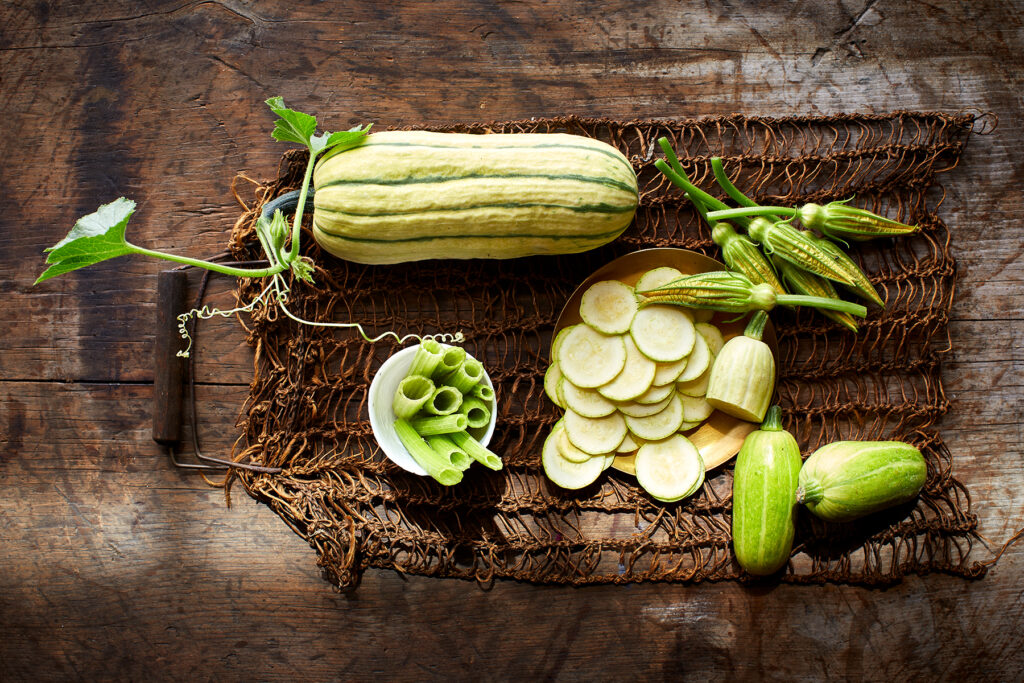 STEM-TO-FRUIT SQUASH IDEAS
Tetra Squash. Bred specifically for experi-encing all parts at all stages of maturity.
Centercut Squash. Row 7's riff on the tromboncino. Eat very young or mature. Pay attention to the shape as you slice.
Acorn Squash. Try harvesting a batch very young, especially golden varieties, and eating like Patty Pans.
Zucchino da Fiore. My favorite variety for big, fat squash blossoms. The fruit itself is meh.
The Farmers' Market. Inspire your favorite farmers to present all the parts at market. Why waste the stems in the compost pile? Start a trend.
Recipe: Pan-Sautéed Young Squash
The most obvious recipes in the world, like this one, are sometimes the easiest to mess up. The key is to gently heat the fruit to a golden-brown, neither burning nor boiling, nor, as my husband calls it, over-mothering the pan.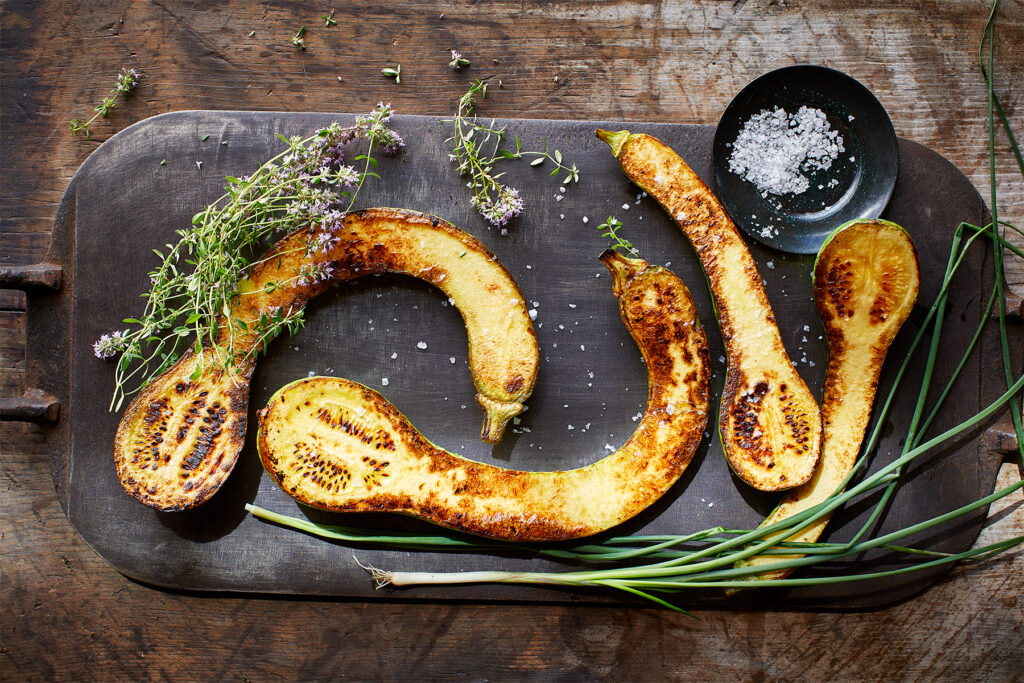 Ingredients
3 large immature squash or 12 small
1 tablespoon olive oil or ghee
A handful of herbs, chopped
¼ teaspoon flaky salt
Directions
Slice the squash into large pieces with an eye toward the beauty of the final shape. Heat the oil gently in a large pan without allowing it to smoke. Arrange the pieces cut side up and fry about 4–5 minutes, or until golden brown on one side. Use tongs to quickly turn the pieces cut side down. Shimmy the pan to keep them from sticking. Check the heat and adjust so it's neither blackening nor burning the flesh. Leave the pan completely alone for 4–5 minutes, until they develop a golden crust.
Arrange on a pretty plate. Sprinkle with salt and fresh herbs.