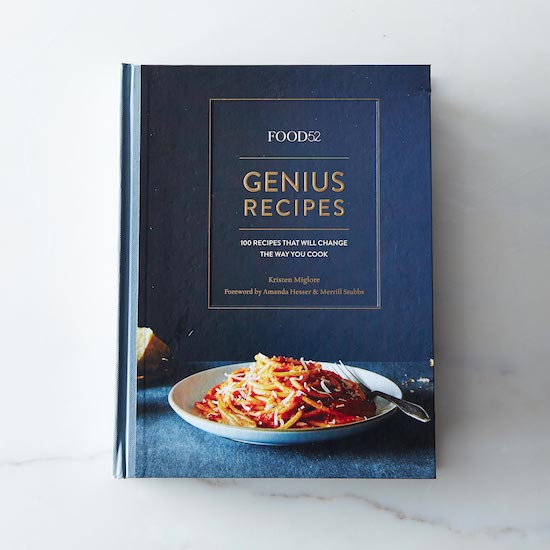 Talia Ralph: Genius Recipes by Kristen Miglore
I have two words for you: onion carbonara. Seriously: who would have thought that slivers of onion were just as good a base for cream and bacon, if not better, than pasta? Kristen Miglore would, for one. I had the pleasure of working under Kristen last summer as a Julia Child Foundation intern, and assembling her "Genius" blog posts was one of my favorite tasks. There truly is something relevatory in each recipe she's picked, and this book is the best of the best. I'm a bit scared to try her poached scrambled eggs, but hey — this is a summer for challenges and adventures! (We also blurbed this book a few weeks back. Read our take and get a recipe from the book here.)
Lori Azim: Rosewater and Orange Blossoms: Fresh & Classic Recipes from my Lebanese Kitchen by Maureen Abood
I need another cookbook like I need a hole in the head but when blogger Maureen Abood released hers, I had to have it. Growing up with my grandmother's homemade Lebanese food, I am pretty darn picky when it comes to kibbeh and stuffed grapeleaves. Every Lebanese American loves what they ate as a child, after all. But Abood has opened my eyes to the wonderful variety of my native cuisine. I mean, come on… vegan kibbeh? Who knew?
Sari Kamin: A Girl and Her Greens: Hearty Meals from the Garden by April Bloomfield
Ok, I admit it, I was skeptical of this book. I mean, when I think of April Bloomfield, pig feet come to mind, not arugula. But she has proved me wrong with this recent release. Bloomfield gives vegetables the same treatment she gives cuts of meat, and by that I mean she makes them extraordinary. I'll be making her pot-roasted cauliflower with tomatoes and anchovies this weekend, and I'm pretty sure whoever is eating it with me won't be missing the meat. (We also loved this book and shared a recipe here.)
Claire Brown: Bill Neal's Southern Cooking by Bill Neal
Back home in North Carolina, I used to watch the honeysuckle bushes like a hawk on my bike ride to school. As soon as they'd bloom, I'd enlist my friends to collect them en masse to make Crook's Corner honeysuckle sorbet. The late Bill Neal founded Crook's in 1985, and it's very much a Southeastern institution — he was celebrating seasonality and locally grown produce way ahead of the curve. His cookbook is peppered with personal anecdotes and quotations from Southern literature, and it's an ideal starting point for learning the world of Southern cuisine. You're in good company with this one: it's also a favorite of George Weld and Sean Brock.
Gabrielle Langholtz: Salads: Beyond the Bowl: Extraordinary Recipes for Everyday Eating by Mindy Fox
I've got two criteria for summer sustenance: a maximum of Greenmarket ingredients and a minimum of minutes at the stove. If you're similarly inclined, you'll want to make every recipe in Salads: Beyond the Bowl by Mindy Fox. The sophisticated flavors will inspire even serious saladaholics to turn over a new leaf. Think beet pico de gallo, honeydew with sweet peppers and ricotta salata, zucchini with radish and lime or a kale caesar I'll be making it until my empire falls.