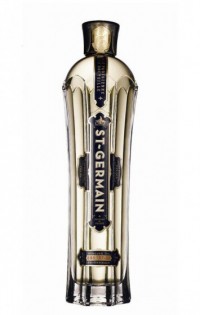 You might recall that way back in April–when Spring foods were just beginning to appear–we sent out a call to Brooklyn's professional mixologists to enter the fourth annual St. Germain elderflower liqueur Can-Can Classic Contest, a seasonal cocktail competition being co-sponsored by our parent publisher Edible Communities.
Seeing as the entries were due in August, the folks at St. Germain have had some time to evaluate regional first-round winners, which were being selected from every Edible community. But Rob Cooper, the company's owner, sends his apologies over the delay, noting that "the quality and number of cocktail recipes submitted far exceeded our expectations and some of them are literally the best things I've ever tasted."
We're not surprised, considering the Brooklyn winner is Franky Marshall, a mixologist from The Clover Club, the cocktail mecca we're featuring in the issue that just went to print last week. (It's our holiday drinks issue, naturally.)
Marshall gets extra points–in our opinion, that is–for her use of  not just seasonal ingredients but local ones (see his recipe below) and we're glad she's now in the running to win $10,000 if his cocktail is chosen as the  grand prize winner.  Cooper promises that will happen on or before December 15th, and we've got our fingers crossed  Marshall's creation–recipe below!–wins it all. (If not, may it go to Manhattan, Queens or the East End.) We wouldn't dream of holding our breath, considering the time it took the last round.
Le Vert en Verre (Green in Glass)
From Franky Marshall, of The Clover Club, 210 Smith Street between Baltic and Butler streets.
"A refreshing cocktail with a beautiful pale green hue, which is at once light and complex," writes Marshall.
2 slices of kiwi
2 sage leaves (Marshall's hail from Satur Farms in Cutchogue, N.Y.)
1/2 oz raw honey syrup (Marshall uses Tremblay Apiaries, "SP" variety, from Van Etten, N.Y.)
1/2 oz lime juice
1/4 oz Green Chartreuse
3/4 oz St. Germain
1.5 oz Barsol Pisco
3/4 oz Riesling (Marshall uses Ravines 2009 Dry Riesling, from The Finger Lakes)
Muddle kiwi and sage in the honey. Shake all ingredients but wine over ice. Finely strain into an ice-filled wine glass. Top with Riesling. Stir to integrate.