Some might see the opening of Pecking House's first bricks-and-mortar restaurant at 244 Flatbush Avenue in Park Slope as the happy ending to an inspiring story. But for Eric Huang and Maya Ferrante, the team behind Pecking House, that story's just beginning. Now with a home, a kitchen, and outlandish luxuries like functioning ovens, they're about to prove that their fetishized fried chicken is no one hit wonder.
The history of Pecking House has to be New York City's #1, All Time Greatest, Restaurant-Worker-Triumphs-During-COVID story—a fact that hasn't escaped The New Yorker, Esquire and the scores of other media outlets that covered its unlikely rise. This story has everything, starting with Chef Eric Huang, who came to cooking as the scion of a New York-based, Taiwanese-American restaurant family. He grew up in modest Chinese restaurants that included Peking House in Fresh Meadows, Queens, which, at different times, both his mother and uncle owned. Just before Covid struck, Huang—a veteran of Gramercy Tavern and Café Boulud—left his elite role as sous chef at Eleven Madison Park to open his own fine dining spot. The pandemic put Eric Huang's plans on ice—meanwhile, it also shuttered Peking House.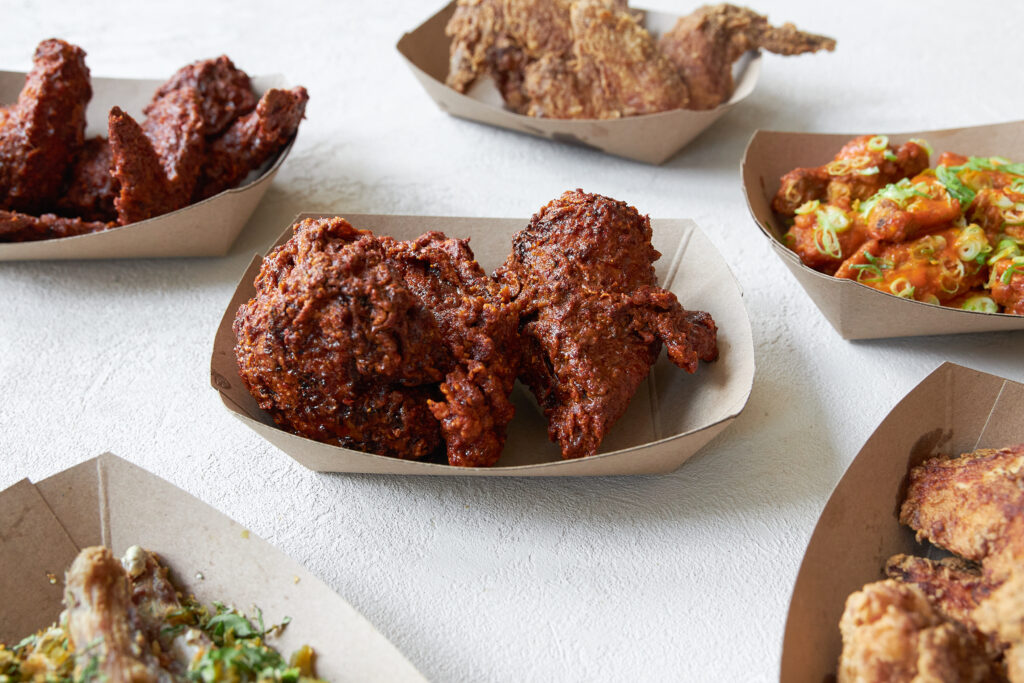 Along with other restaurant folks turfed out of jobs by COVID, Huang went independent. He moved into the abandoned kitchen at Peking House and started formulating ideas. Says Huang, "At that time, I was entertaining the idea of doing a seafood noodle pop up, I was entertaining the idea of doing a grilled chicken kind of thing." The decision to build a fried chicken business wasn't particularly intentional. "Peking House had been defunct for six months when we got in there, and it was already a very, very old restaurant," he says. "Like, literally—the last time it was renovated was in 1986. Nothing really worked properly—only the fryers. So, you know—the chicken being the best thing I happen to come up with at that time, plus, the fryers being the only thing I could really count on to work—all made the decision for us."
"Of course, we were 14 miles from Manhattan. And what is the one food that does not travel well in a car? Fried chicken," Huang says, sharing a laugh with Ferrante. "I can understand how stupid that seemed at the beginning."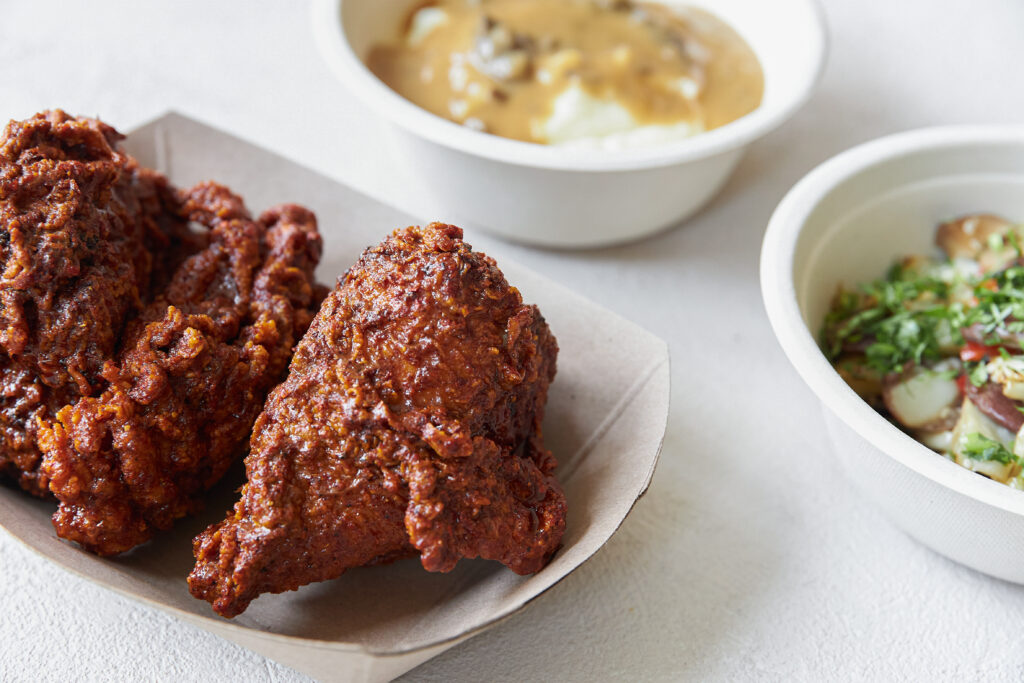 Huang developed a take on Nashville hot chicken that drew from both his Chinese heritage and his 12 years in fine dining kitchens. The chicken was buttermilk-brined, then battered in flour, cornstarch, potato starch, and five-spice powder. Huang's batter also contained a modernist cuisine ingredient that ensured the chicken's brawny, shatteringly crisp crust survived delivery. Says Huang, "We use this product called EverCrisp, it's a modified wheat dextrin. Basically, what it does is it traps water. And, when used in the batter, steam wont sog up the crust. I have to give credit to fine dining in that regard—because using modern ingredients and modified starches was something that we did."
Finally, rather than a Nashville-style dunk in cayenne pepper, Huang's chicken was passed through a less fiery—but far more nuanced—bath of ground, toasted Tianjin chilies, Szechuan peppercorns, salt, sugar, and MSG. The resulting chicken's thick crust was brick-red with spice, crisp, yet, inside, its flesh was juicy. It was (and still is) utterly compelling. Huang set up shop—that is, he named the enterprise Pecking House and announced that he was operational to his followers on Instagram. Then he started taking orders for delivery.
One early order came from Huang's friend and IG follower, Maya Ferrante, with whom he cooked at Gramercy Tavern. Says Ferrante, "I saw on Instagram that he was doing this in September of 2020. I was one of the first people to order and "like" his posts on Instagram. And I noticed that his way of marketing was very grassroots, through Instagram. He was asking people, 'if you like it, repost it on your stories,' in the hopes that their friends would order it, too." Demurely, she recounts, "I noticed that his reposts became, like, quite numerous."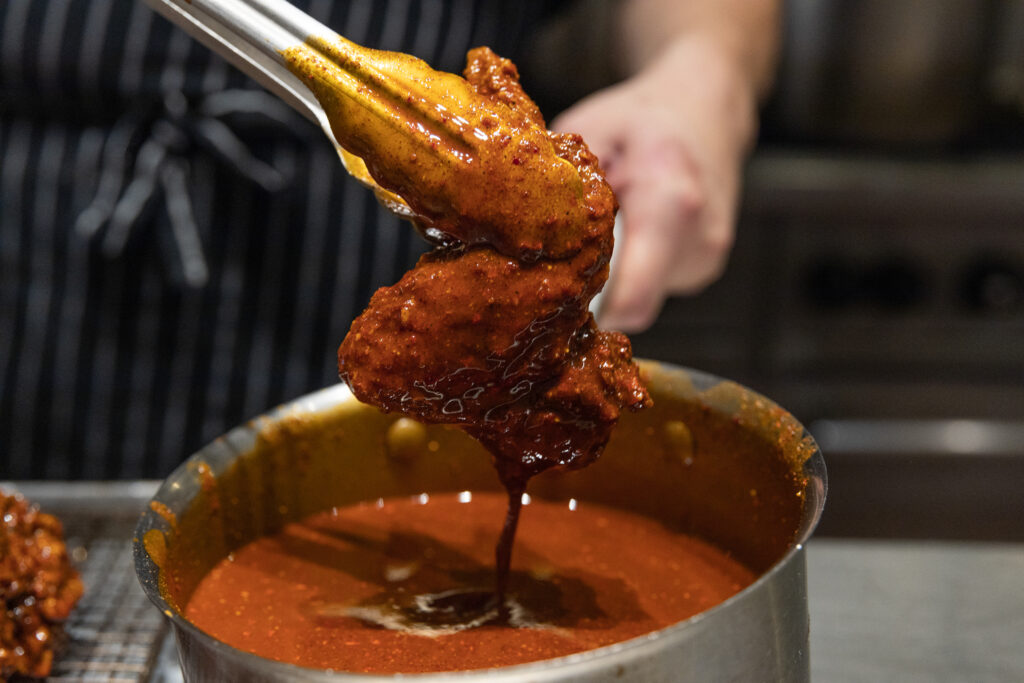 It's an understatement. Within ten weeks of operation, Pecking House had amassed a waitlist of 9,000. Ferrante attributes some of its early success to the dearth of exciting food experiences to be had during the early days of COVID. She says, "I was one of those people—like, I wasn't like them [she's a chef]—but I had an infant. When I ordered it, it was like, 'this is the best thing I've eaten in a really, really long time.' It was exciting." Huang still boggles over Pecking House's rocket rise. "I think it would take some distance to gain a perspective to see what was really going on. But, as you know, I never was in lockdown—I never once stopped working." Huang suspects that the built-in exclusivity of the waitlist helped. "We were delivering a good meal with this fun story, and it felt like such a feat to have gotten a delivery at all. I never want to have any sort of arrogance about our success, but I think having that kind of meal delivered—it was so special to people." Ferrante wasn't yet willing to work in Huang's small kitchen during COVID—but she wanted to help. She stepped in to work on deliveries, and the pair have been working together ever since.
The IRL Pecking House restaurant in Park Slope still has a line, but, happily, it's not 9,000 people long. Its site also offers online ordering for pickup and local delivery. When I visited a couple of weeks ago, Huang and Ferrante were still in the process of getting their liquor license, but they were serving bottled cocktails by The Wandering Barman. Their hot chicken had gained a few siblings: "naked" (undipped, but seasoned with five spice, salt, and vinegar powder), salted egg (fried with egg, like katsudon), orange pepper wet wings, and a crispy chicken sandwich topped with dark soy caramel, pineapple jam, and charred cabbage. Huang and Ferrante have also bulked out the sides on their menu—whatever you do, don't skip the roasted chicken powder fries and mashed potatoes with duck heart gravy. KFC this is not.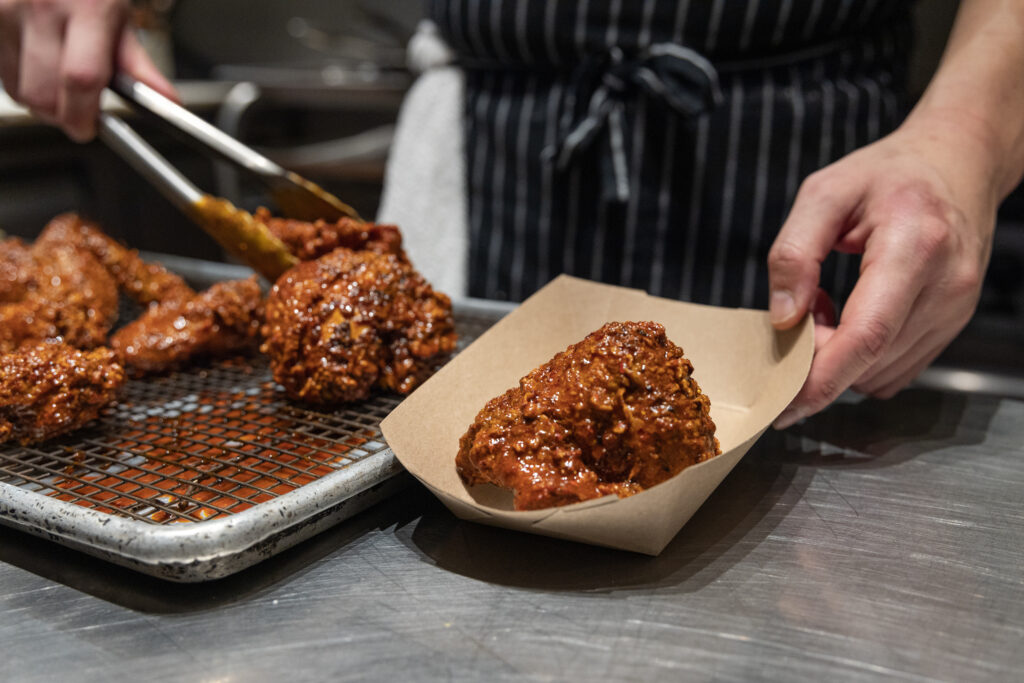 The Park Slope Pecking House's cheery chicken head logo, suave Art Deco typeface, and allover sleek branding begs the question: are there other Pecking Houses on the horizon? In short, yes. Says Huang, "I think Maya and I are same page about this—this is never going to be a franchise. We don't want it so big that we make sacrifices. I don't want to name names, but there's plenty of places that get really successful and then—all of a sudden— a lot of money comes in. That's when it becomes difficult to not look at cooking through the lens of money."
"Do we want to open more of these? Yes. Will we ever open so many that we get political lobbying kind of status? No," Huang laughs. "But I think we want to grow, genuinely, because we want to reach more people. We started out by delivering to almost 80%-90% of where New Yorkers live. We have a lot of fans everywhere: Queens, the Upper West Side, Fi-Di comes to mind. These are places that we did really well. We get emails and messages all the time, people being like, we really miss you, and you're not delivering long-range anymore. So, we want to reach those people again."
Expect more from Ferrante and Huang—and not just at Pecking House. Says Ferrante, "Eric and I have already toyed with other concepts that have percolated through our brains. So, there's more to come." Huang agrees. "I love what we do and what we've created, but there are a lot of other things that we still have in our bag."