It is a perfect summer evening on the Williamsburg shore of the East River as the sun sets over Lower Manhattan. Magically, there are exactly enough grey clouds in an otherwise blue sky to cast flaming sunbeams as the sun drops. We are gathered here to launch Chef Omar Tate's Cultivating Community dinner series that celebrates the excellence of America's Black farmers. Reggae is playing and on long refectory tables that curve off toward the Williamsburg Bridge are heaping bowls of black walnuts, squash, raspberries, and wildly delicious blackberries. Everything served at Tate's Cultivating Community dinners will have been grown by Black farmers, but it doesn't stop there. The site of the kick-off, Oko Farms, was co-founded by Nigerian farmer Yemi Amu and Chef Jonathan Boe. It's best known for raising freshwater fish and produce using a sustainable, recirculating aquaponic loop.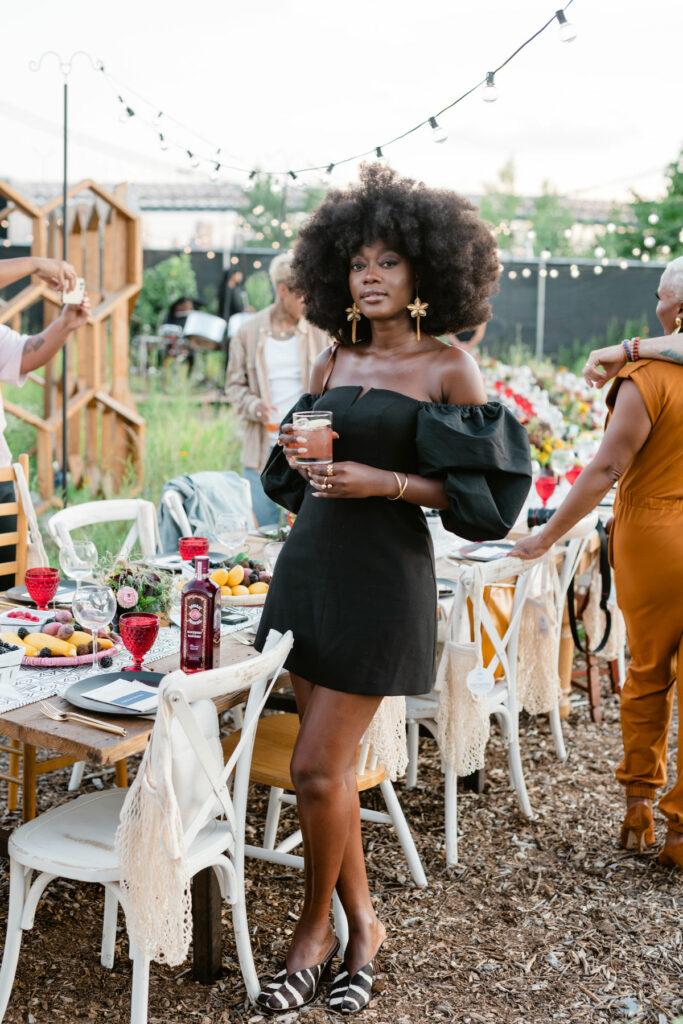 Tate's Cultivating Community dinner series is sponsored by Bombay Bramble, which donated $25,000 to the Black Farmer Fund, an investment entity that provides capital to Black-owned food businesses here in New York State. Chef Tate, a veteran of top restaurants in NYC and Philadelphia, rose to national prominence through his ongoing Honeysuckle projects that weave food, farming, music, poetry, history, art, and activism into a complex expression of Black experience. In 2020, Tate was named Best Chef by Esquire in its annual list of Best New Restaurants; in 2021, Tate was appointed to the Time100 list.
Given his celebrity, Tate could relax as a figurehead in a dinner series funded by a deep-pocketed sponsor. Instead, he's taking an active role—as in, he's driving to the Black-owned farms in his network to pick up products for the events. When asked about his relationship to the series' sponsor, he says, "I'm being very candid, but it's important for people to know that when we chatted [with Bombay], I talked about the importance of the community. Immediately, they're like, 'of course,' you know?" He explains, "I feel like this could have been one of those partnerships, where very easily, it could have been all about me. Instead, the series is obviously about the strength of the whole Black food and farming network."
"But, like, it can't just happen in New York, right? So, we're in southern cities to be in the place where the history began. And intentionally reaching out to chefs and farmers in those communities because this is not a singular, right here, pin drop issue." Later this Summer, Tate will hold Cultivating Community dinners in Atlanta and Charleston.
Highlights of the dinner at Oko included Peculiar Pig Farm-sourced Summer Ribs (strawberry-marinated St. Louis ribs with berry legacy sauce and "Up-South" pickles), and Snow Crab and Tomato Salad (with charred cornbread, candied lemon, and raspberry vinaigrette). Drinks showcased Bombay Bramble and included a Bramble Berry Sour and a Bramble Palmer, while the evening wound up with a Bramble Tart that featured those luscious berries served at season's peak. When the meal concluded, Tate introduced each farmer and told their unique stories. The farmers took bows to wild applause.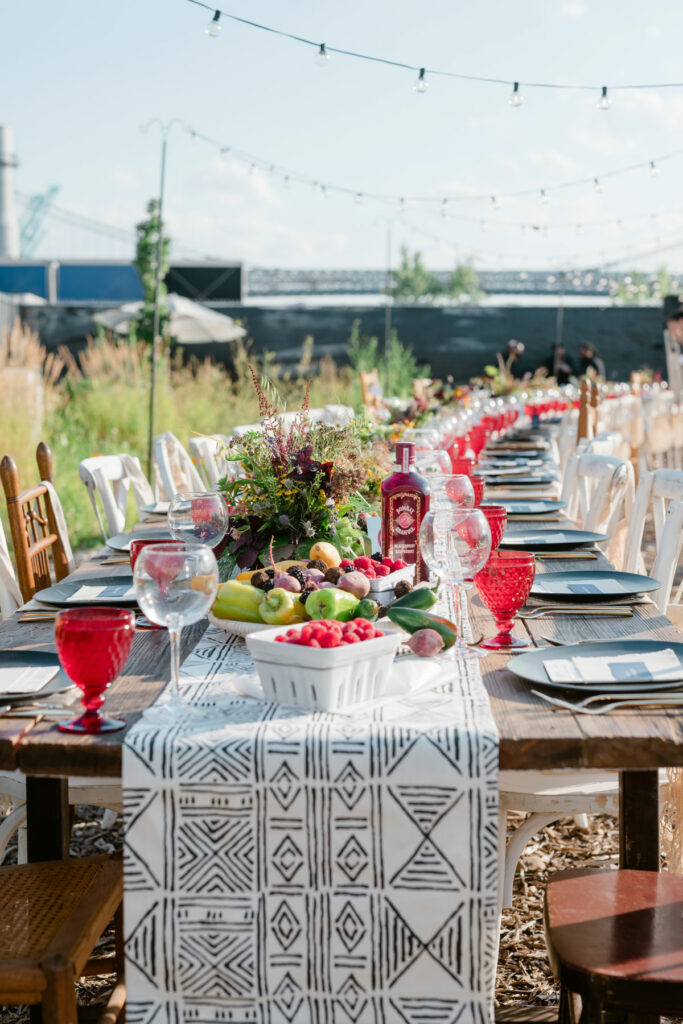 Yet, for all the joy of a lovely summer evening with free-flowing drinks and delicious food, these dinners have a purpose. In Brooklyn, the personalized booklets that appeared at each place setting reminded guests of Cultivating Community's mission. In it, Tate writes:
"In 1920, the number of Black Farmers peaked at nearly 1 million, constituting 14 percent of all farmers. But between 1910 and 1997, they lost 90 percent of their property. (White farmers only lost 2 percent in the same period.) As of 2017, there were just 35,470 Black-owned farms representing 1.7 percent of all farms. The land Black farmers lost, some 16 million acres, is conservatively estimated to be worth $250 billion to $350 billion today."
To invest or to learn more about Black-owned farms in New York, visit Black Farmer Fund.
Photos by Chi-Chi Ari.