This piece was most recently updated December 2022. 
As anyone who has lived here for any length of time can tell you, New York demands your deference and usually does so at the most inopportune times. Most of us agree that being able to access delicious food, quickly and (sometimes) cheaply, is a convenience that we deserve.
But while convenience is indeed one of many purported reasons to not prepare our own meals (and in fact more and more people, sadly, are not), food media's popularity seems to indicate that we're living in a sort of golden era of cooking curiosity.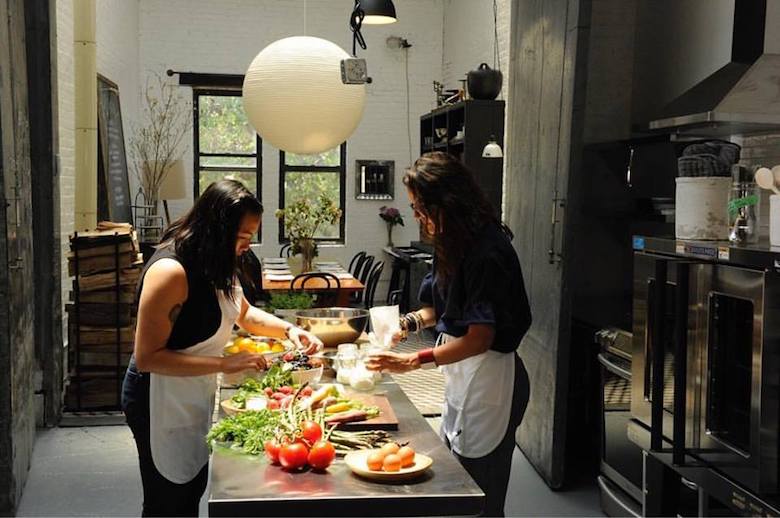 This renewed interest has been met in recent years with a bumper crop of new and reimagined one-off cooking classes in casual teaching kitchens that are less formal than culinary school and more structured than trying to teach yourself how to, say, make dumplings from a recipe.
While researching this story I also found that each of these cooking schools is guided by the same overarching mission: to bring people into the kitchen with joy, confidence and efficiency. Besides this, though, they're unique, and each offers something different for home cooks of varying levels of experience and culinary interests.
Have another kitchen, studio or event space that you think should be in this roundup? Let us know by sending us an email at info@ediblebrooklyn.com.
Osakana
290 Graham Ave., East Williamsburg
Expect classes like: "Hands-on Fish Butchery" is just that—a class wherein you roll up your sleeves, wash your hands and dive into butchering a whole, locally caught fish, focusing on safe practices and using every part of the fish.
Average price: $75
Since opening in Williamsburg in 2016, the guiding principles at Osakana have been "honor your fish" and "mottanai" (Japanese for no waste). Through its butchery, fish market and education center, Osakana prepares local ingredients in the Japanese style, focusing on methods over recipes. Their most popular class, "Hands-On Sushi," uses common household items like tea cups and plastic wrap for preparation and includes instruction on how to properly cut fish for sushi and sashimi. They also offer a sushi preparation class for kids, sans knives.
The Brooklyn Kitchen
274 36th St., Sunset Park
Expect classes like: "Doughnuts, Churros, Fritters, OH MY!" and "I Love Bread" (featuring an Oprah meme in the class description)—the Brooklyn Kitchen takes a cheeky approach to cooking, and we wouldn't have it any other way.
Average price: $100
When Taylor Erkkinen and Harry Rosenblum opened the Brooklyn Kitchen in Williamsburg in 2006, they aimed to teach kitchen fundamentals while also having fun, and more importantly, to create realistic ways for busy people to cook more. In the dozen years since, the "radical cooking school on a mission to change the world by teaching people how to cook like grown-ups" has reshaped their class catalog to reflect the needs of their students with class categories like "adulting" and "carb loading" and now offer 101 and 201 level options for their more popular classes.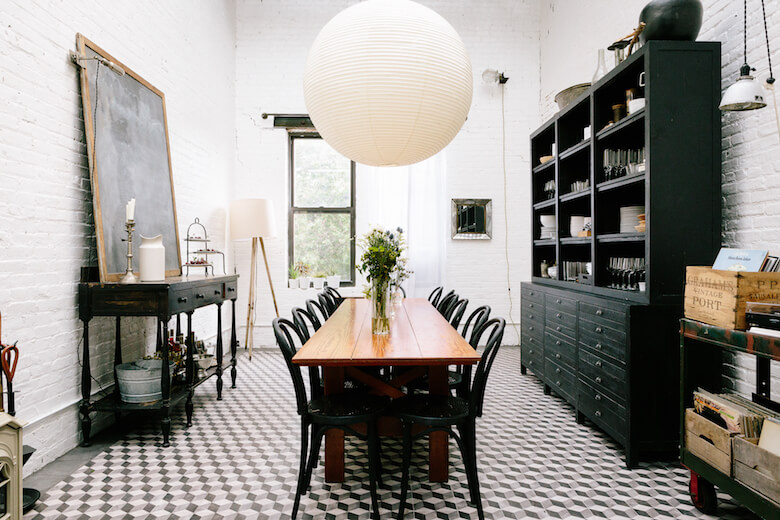 Cook Space
603 Bergen St., Ste. 202, Propsect Heights
Expect classes like: The "Cook the Book" series, in which the Cookspace team looks to their favorite cookbooks (including Lucky Peach's Power Vegetables and Alison Roman's Dining In) for inspiration while staying true to their improvisational mission. They recently created a Kitchen Table Conversation Series, designed to broaden our minds through discussions with thought provokers and creatives.
Average price: $130
Cook Space began in Prospect Heights in 2017, with the old adage that if you teach someone to fish, you're doing them a greater service than simply feeding them. Classes in the sleek, industrial studio are small (12 people max), encourage teamwork and are taught by the very charming Nini Nguyen, formerly of Eleven Madison Park, who encourages improvisation, discovery and "learning by building flavor from the ground up."
Purple Kale Kitchenworks
250 44th St., Sunset Park
Expect classes like: "Unraveling the Recipe: Sunchokes and Spring Greens with Wild Rice in Barnyard Broth," which begins instruction with a specific dish, then identifies the dish's separate ingredients and techniques to create new starting points for other original dishes.
Average price: $165
At Purple Kale Kitchenworks, classes are strategy-based, created to reflect their core values of efficiency, sustainability, resourcefulness, economy and good taste. Ronna Welsh, who opened the Sunset Park studio in 2010, was a chef who never cooked at home until she started a family, at which point she started cooking delicious food for her children—but still wasn't feeding herself well. PKK's trademark class "Everyday Improvisation" aims to help people make "interesting, varied, economical, healthy, impulsive, delicious and expedient meals at home."
Brooklyn Brainery
190 Underhill Ave., Prospect Heights
1233 Prospect Ave., Park Slope
Expect classes like: The Brainery tends to offer single-dish and -technique sessions, including anything from "Knife Skills: Slicing Through the Basics" and special one-offs like "Let's Make Cream Puffs."
Average price: Varies but usually not more than $80
More than just cooking classes, the Brainery offers "casual classes for curious adults about all sorts of things." Cookbook author Diana Kuan and historic gastronomist Sarah Lohman teach many of their culinary courses and although they're not currently accepting teacher applications, anyone can pitch a class idea.
The League of Kitchens
Various locations throughout New York City
Expect classes like: Taste the world with classes on Afghan cuisine, Mexican and more.
Average price: $175
Cooking brings us closer together. At least that's the idea behind League of Kitchens, an immersive culinary experience where immigrants teach intimate cooking classes in their homes.
Bridget Shirvell contributed reporting.
SaveSave