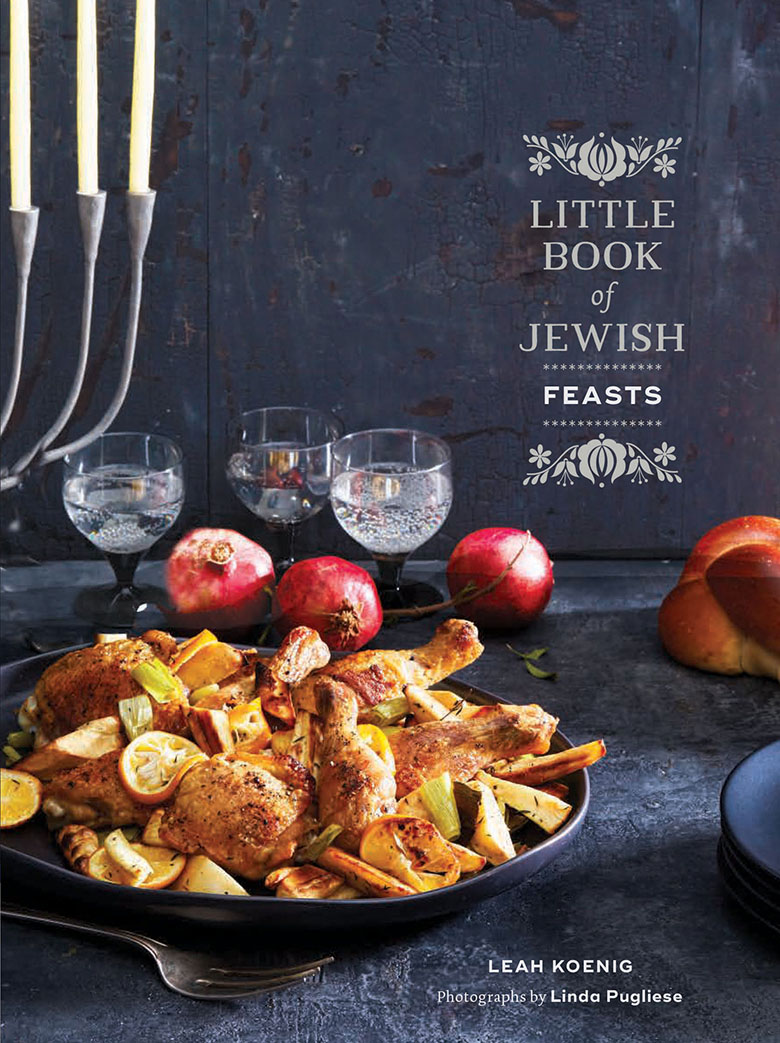 Even if you're not Jewish, you probably know a couple things about Passover. It's the Exodus story of Jews fleeing Egypt, retold at Seders around the world every spring. You know about matzo, the most ubiquitous Passover food and the top-ranked item in the just-released The 100 Most Jewish Foods. But beyond that, everyone's Passover experience is slightly different, from the Haggadah to the Seder plate.
There can be comfort in traditions; I know my mom will make the gefilte fish, and I eagerly anticipate my grandmother's brisket. Even if you want to preserve your Passover traditions as best you can, Leah Koenig encourages people to consider incorporating at least one new element.
Koenig, a Brooklyn-based food writer, is the author of numerous books about Jewish food, including Modern Jewish Cooking and Little Book of Jewish Appetizers. In her forthcoming tome The Jewish Cookbook, she'll explore recipes from the farthest reaches of the diaspora. She's long been interested in Jewish foodways that extend beyond her own, referring to Jewish food as "a global cuisine."
When Koenig first learned about dishes like chraime—a spicy, stewed fish fillet dish popular with Jews in North Africa and often eaten on holidays like Passover—it changed how she thought about Jewish food.
"It was kind of like an eye-opening moment when I realized it's as equally important and central to Jewish life as brisket or latkes are to me," Koenig said. "This is something people cannot imagine the holiday without."
Chraime is one of several recipes Koenig recommends for Passover in her latest work, Little Book of Jewish Feasts. The Sephardi dish gets its name from the Arabic word for "hot," with Jews from Morocco to Lebanon utilizing different chili peppers to achieve the desired spice level.
"Like many Jewish fish dishes, chraime is typically eaten as a prelude to the main course," Koenig writes in the book, "but it easily holds its own at the center of the table."
Koenig gets that many people won't want to toss their traditions and bring in a new centerpiece. She suggests embracing it as a replacement for a smaller course like gefilte fish.
"A lot of people eat 'Jewish' food mostly on the holidays, so I totally get not wanting to mess with tradition," she said, adding that she understands why Passover is often seen as a chance to pass on traditions, culinary and otherwise. "What I typically tell people is, 'Don't change up your whole Seder, but maybe incorporate one new thing a year.'"
If you're ready to make chraime a main course, Koenig recommends adding couscous. Adventurous cooks and those already serving chraime can consider pairing it with Koenig's mina, a matzo pie with leeks and spinach detailed in her book that's popular with Sephardim. Koenig also offered a few suggestions from her Little Book of Jewish Appetizers, including a Hungarian chopped egg and caramelized onion spread (for dipping your matzo).
It's possible that your relatives and Seder-mates will kvetch about any changes you attempt to make to the holiday menu. But maybe you'll win them over once they try it, and—as Koenig said—you may start a new family tradition.
Chraime (Spicy Sephardi Fish Fillets)
Reprinted from Little Book of Jewish Feasts by Leah Koenig with permission by Chronicle Books, 2018.
Serves 4
INGREDIENTS
¼ cup vegetable oil
1 large onion, finely chopped
6 garlic cloves, peeled and thinly sliced
½ teaspoon ground cumin
½ teaspoon ground cinnamon
½ teaspoon ground turmeric
½ teaspoon sweet paprika
½ teaspoon red pepper flakes, or more to taste
1 (14½-ounce) can diced tomatoes
½ cup water
3 tablespoons tomato paste
1 tablespoon minced preserved lemon peel
1 teaspoon sugar
1 bay leaf
1½ teaspoons kosher salt
½ teaspoon freshly ground black pepper
4 skinless halibut or red snapper fillets (about 6 ounces each), rinsed and patted dry
Chopped fresh cilantro or flat-leaf parsley for serving
Lemon wedges for serving
DIRECTIONS
Heat the oil in a large wide pan set over medium heat. Add the onion and cook, stirring occasionally, until softened, 6 to 8 minutes. Add the garlic, cumin, cinnamon, turmeric, paprika and red pepper flakes and cook, stirring, until fragrant, 1 to 2 minutes. Stir in the diced tomatoes, water, tomato paste, preserved lemon peel, sugar, bay leaf, salt and pepper. Raise the heat slightly and bring the mixture to a boil. Turn the heat to medium-low and nestle the fish fillets in the sauce, spooning the sauce over the top of the fillets to cover, if necessary. Cover the pan and simmer until the fish is cooked through, about 20 minutes.
Using a flat spatula, carefully remove the fillets from the pan and transfer to a serving platter. Let the remaining sauce continue to cook in the pan, stirring often, until it thickens slightly, about 5 minutes. Remove the pan from the heat, discard the bay leaf, and spoon the sauce over the fish. Serve sprinkled with cilantro and with the lemon wedges on the side. Store leftovers, covered, in the fridge for up to 2 days.