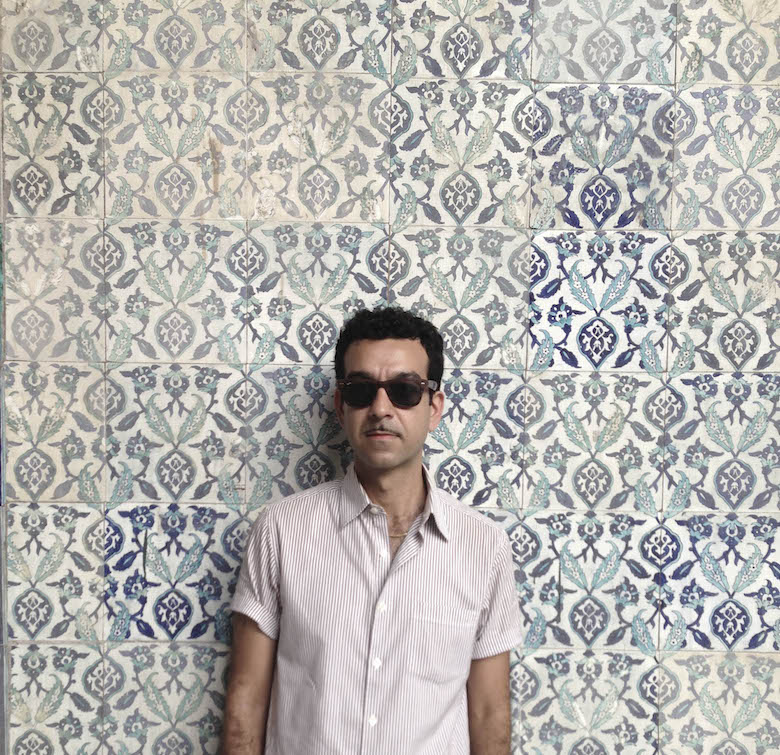 We always want to know where and how the artists eat. That's why The Artists' and Writers' Cookbook: A Collection of Stories with Recipes edited by Natalie Eve Garrett is such a treat. In that book, Brooklyn resident, artist and Parsons, The New School for Design professor Kamrooz Aram talks about nostalgia and ghormeh sabzi—his favorite Iranian dish from childhood. It's made of vegetables, kidney beans, lamb stew meat and shanks, and a variety of delicious aromatics.
Here, he tells us where he eats in the city (and where he misses eating in a city that might no long exist).
https://www.instagram.com/p/BLW9oHXAoW4/
Since 2010, while hundreds wait three hours or more to get a grimy seat at the solid but overhyped Roberta's, I might be found around the corner at Momo, seated at the last of three communal tables—all cut from the same walnut tree—tucked into a corner that owner Phillip Gilmour calls "the Godfather table." I am happiest here, surrounded by a beautifully diverse group of people moving gracefully between tables delivering some of the best Japanese(ish) food in New York. Catering to a wide range of budgets and appetites, a typical meal can range from rolls and karaage to an astonishing omakase that will impress the most discerning sushi diners. Thanks to the brilliance of chef Ishmael Alvarez and Phillip's relationship to Heritage Foods, Momo serves up unexpected combinations of Japanese and American (the continent) food with the finest ingredients and keeps a room full of hungry and thirsty people very happy. The rowdy tavern vibe on weekend evenings might involve Phillip grabbing a fresh set of chopsticks and feeding a stranger a bite from my plate of one of the evening's extraordinary specials. Moku Moku, Momo's casual cousin next door, is more of an Izakaya/noodle shop, serving up a completely different, but equally compelling menu… definitely not to be missed.
https://www.instagram.com/p/BL3_AIhD96k/
Like Momo, Faro is a restaurant built on pure love and integrity. Owners Debbie and Kevin Adey, who were responsible for turning the now closed Northeast Kingdom into a dining destination (Kevin came from Le Bernardin and Debbie from Jean Georges) opened Faro about a year and half ago in a beautiful, open warehouse space, where one might be seated feet, not inches, away from other diners. While they grind their own grains and make some of the best pasta in the city, Faro is not an Italian restaurant—it is very much an American restaurant. Most important, it is personal: chef Adey has a close relationships with his farms and gets almost all of his ingredients from within a two-hour drive of where he was raised upstate. When it comes to ingredients, this is as good as it gets, and Adey's sensitivity to and respect for the ingredients is met by his extraordinary intuition to create a menu that will surpass your expectations of the finest Manhattan restaurants, but at a considerably lower price.
https://www.instagram.com/p/BBqTJ4fioQh/
Hi/Hello, a local European-style café where one can get lunch, dinner, a drink or just coffee at almost any time of day, is my "cantine." Two of the partners from Momo joined with Kip Michel, formerly of Roberta's, to open this bright and casual spot on a corner directly above the Jefferson station. Kip has established a seasonally evolving selection of wine and beer along with solid menu of sandwiches and a few bistro-style classics such as steak frites and an excellent burger, all at accessible prices. Additionally, they are starting to bring lighter bites to the menu, making them one of the only places in the neighborhood where one can get a healthy lunch. And don't miss the coffee; these guys are serving some of the best Italian-style espresso drinks.
https://www.instagram.com/p/1tOSe9viDP/
You might be wondering where I eat Iranian food in New York… and the answer is, at home. Persian food is complicated and labor intensive and not conducive to restaurant dining, unless you are going for kababs. However, there is one man who is doing a pretty great job of giving people an idea of what kind of magic happens in an Iranian kitchen. His name is Saeed Pourkay and he left a printing business that he had with his brothers to pursue his passion for Persian food, and I hope he is as happy as his customers. Taste of Persia is nestled into a corner of a pizza shop on 18th Street near Union Square, and it is a place I love to stop for the classic Aash Reshteh or whatever "khoresh" Saeed has been stewing on that day.
Mi Floridita
https://www.instagram.com/p/wkSPmWteUZ/
Finally, I have to give a shout out to a restaurant that no longer exists. When I was in graduate school at Columbia from 2001 to 2003, our "cantine" was a Cuban diner on 125th Street called Mi Floridita (it later evolved to a tapas restaurant in order to accommodate a more bourgeois clientele and finally closed or relocated, I'm not sure). I remember many meals at Floridita, chatting with friends over a café con leche or a Presidente. At the time, you could get half a chicken, a side of rice and beans, and plantains for $4.50—which is about as much as my budget could handle—and it was enough food for both lunch and dinner. Whether a new Floridita is out there somewhere, serving tapas or whatever, my memories of Mi Floridita are of a place that no longer exists, perhaps in a city that no longer exists.