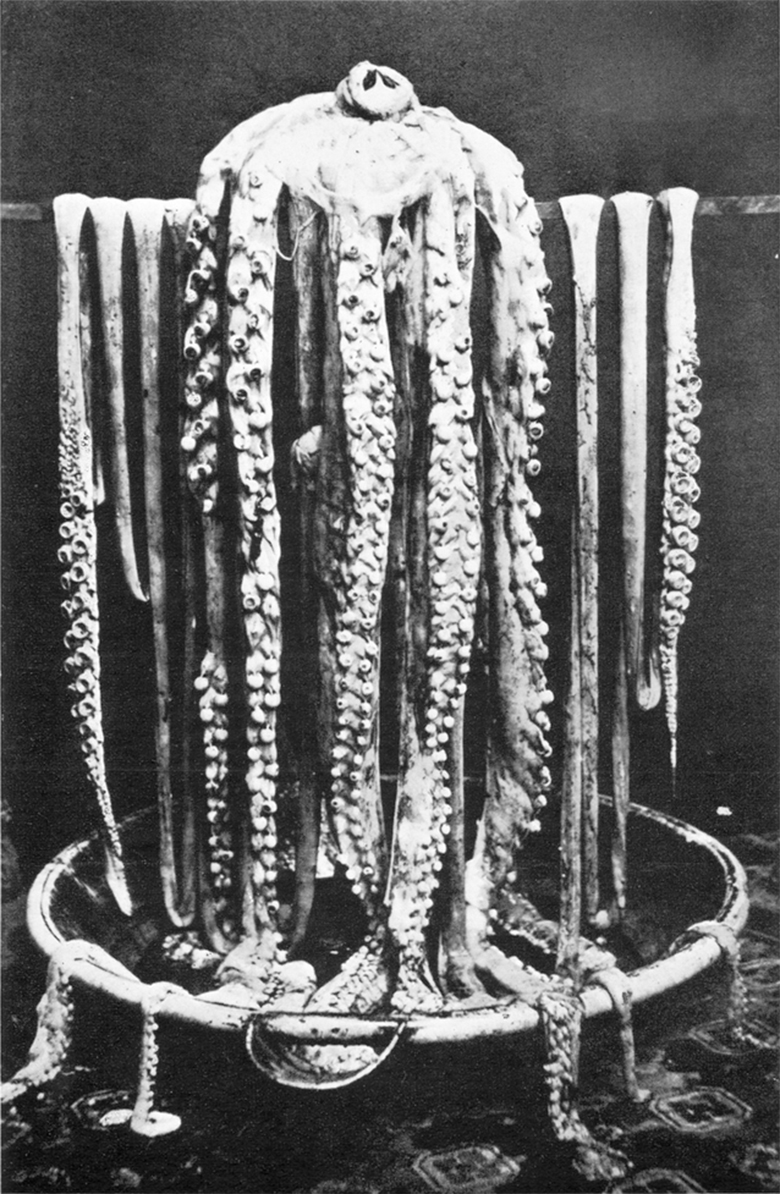 Greenlight Bookstore, Clinton Hill eatery Peck's and locals have cooked up a series of monthly dinner-with-author evenings for the neighborhood. The aptly titled Book/Plate had its test run late summer/early fall and expects to resume in the spring. If you're bookish and peckish, you'll want to be there, too.
Edible had the pleasure of attending their end-of-season event, which featured the singular work Preparing the Ghost by Matthew Gavin Frank. It's a brainy musing on the 1874 discovery that the fabled giant squid not only wasn't fabled but had "thrashed itself to death in fishermen's herring nets in Portugal Cove, Newfoundland." It soon after became the obsession of local minister and naturalist Moses Harvey who had the mysterious sea creature transported leagues and leagues to his home, where, to demonstrate its enormity, he photographed the behemoth hanging from his shower rail, its lengthy tentacles wrapped endlessly from rod to floor to rod to floor to rod to floor (see picture above). Rev. Harvey proceeded, in the tradition of fiction's great obsessive mariners, to argue the deep sea denizen's existence to an incredulous public.
Author Frank seamlessly picks up the tentacular thread from there, running with it through 300 pages of marine biology, obsession, mythology and world and family history — "I tumbled down the rabbit hole of research, I guess," says the author — ultimately landing before us underneath the stars at the back of Peck's, where his quirky and entertaining tale is punctuated with nautical-themed savories, including beef tartare with nori, boquerones toast and squid-ink-infused arancini.
(Weird squid fact: Did you know squid ink is the only known organic material on earth that isn't subject to entropy, i.e., it doesn't decay? Apparently, scientists found a 160-million-year-old squid—no joke—they cracked it open and its ink was like new. Frank, who's sitting across the picnic table, says as far as we know "squid ink is immortal." Wide-eyed, we all partake of the passed canapés with new reverence.)
Most in attendance are Clinton Hill neighbors, food and book lovers all, many in the industry. Local Miguel Lopez is there as a "fan of monster stories and stories about the sea," he's a charming conversationalist who makes his living art-directing Ninja Turtles films. A couple seats over is neighbor and Other Press marketing manager Jeff Waxman, who sparked the idea of the literary evenings. He tells of his own serendipitous adventure across the globe from bars and bookstores to the Twittersphere, where he finally makes the author's acquaintance and arranges for his presence that night.
The mingling and friendly, engaging conversation among no-longer-strangers is just what Theo Peck and Greenlight's Jessica Stockton Bagnulo had in mind in terms of neighborhood collaboration. Look for future creative Book/Plates on the horizon. In the meantime, pop into Peck's for soups, sandwiches, beer or catering or check out Greenlight's Cookbook Club, which meets Tuesdays every other month.
Tickets are $50 and include book, meal and beer.