All-natural, "craft made" popsicles, Brewla Bars were a hit at Brooklyn Eats trade show. 
Those lucky enough to snag a ticket to last month's Brooklyn Eats trade show had no hard time finding plenty of innovative Brooklyn-made (and New York City-made) food and drink. While we saw many recongizable brands lining the shelves at Whole Foods, Fairway and every mom and pop artisanal food shop at Brooklyn Eats — People's Pops, Grady's Cold Brew, Sorel Liqueur, Liddabit Sweets — we were surprised by (and drooling over) some of the newest products to come out of the borough.
Look for these brands and products throughout the city:
Facebook/Brooklyn Sesame
Brooklyn Sesame
Move over, Nutella and peanut butter — there's a new spread in town. This Mediterranean "halva" (or dessert) spread, made with sesame, pure honey and raw almonds, is as delectable as it sounds. Founder Shahar Shamir found his inspiration from the traditional fresh halva he ate in Israel, and re-made it without processed ingredients. The spreads, made with add-ins like cocoa, sea salt, roasted pistachios and black caraway seeds, make for a sweet treat that's just a little different. Find them online; or at Brooklyn Flea, Brooklyn Kitchen, the Greene Grape, and other locations all over New York City.
Sfoglini Pastas
If you're still daunted by making pasta at home, Sfoglini pastas are the next best thing. Made with organic flours and seminola, Sfoglini offers a whole range of pastas; from your basic rigatoni, spaghetti and macaroni to the more obscure noodles, like spacatelli, zucca and ditalini. Sfoglini also offers seasonal selections of pastas made with local ingredients, such as spent grain from Bronx Brewery or basil from Brooklyn Grange. The pastas are available online and throughout the city, like at Lucy's Whey or Bedford Cheese Shop. And as a bonus, Sfoglini offers a pasta-of-the-month club (to go perfectly with your wine- or cheese-of-the-month club).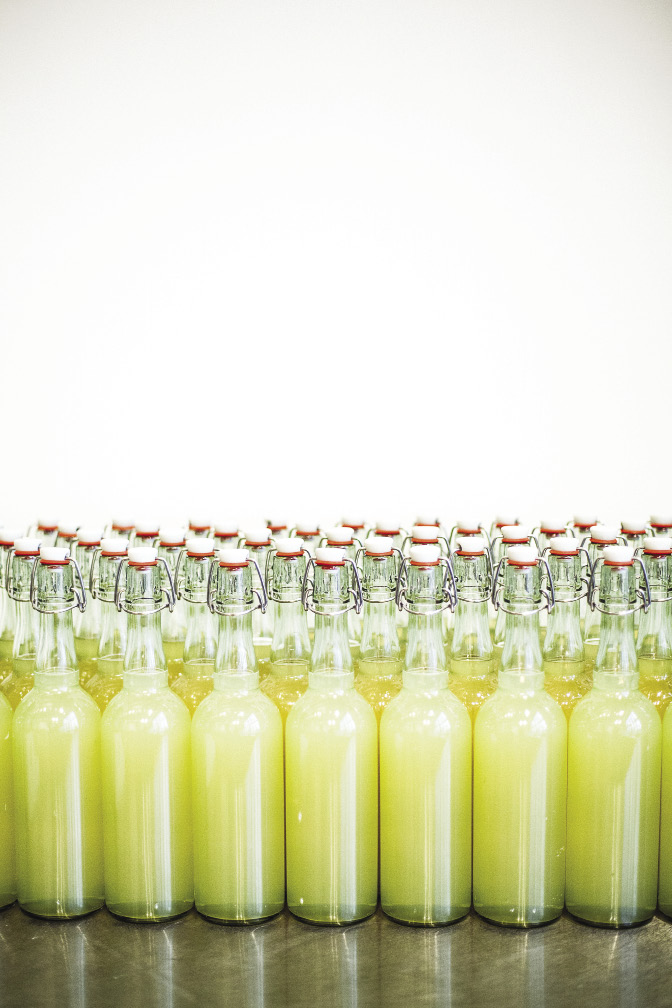 Photo credit: Alan Gastelum
Barrow's Intense Ginger Liqueur
Intense, indeed! Barrow's uses just four ingredients for its liqueur — filtered water, cane spirit, sugar, and ginger — but it certainly packs a punch, thanks to the 200 pounds of fresh ginger used in each batch. It's made for your ginger-based cocktails, like a Dark n' Stormy, Pimm's Cup or even a boozy ginger ale. Find it in most liquor stores throughout the boroughs and read the full story from when we covered them in our last drink issue.
Facebook/Hay Rosie Craft Ice Cream Company
Hay Rosie Craft Ice Cream Company
The newest "craft ice cream" shop on the block, Hay Rosie's mouth-watering frozen treats will make this your go-to ice cream shop. Stop in the Carrol Gardens store for a "tasting flight" of ice creams — recent flavors include salted lemon cream, Sriracha popcorn and banana Ferrari — or pick up a mini cardboard crate to go.
Good Eggs/Sohha Savory Yogurt
Sohha Savory Yogurt
Made in Sunset Park, inspired by the Mediterranean, Sohha's line of savory yogurts may be the healthiest yogurt you'll pick up at the store. Founder Angela Fout adds a mix of seasonings you wouldn't expect — garlic, onion, sesame seeds, fresh herbs — along with locally-grown ingredients to her yogurt at her Chelsea Market shop.
Here are some additional snapshots from our day Brooklyn Eats:
Bacchanal Pepper Sauce, a Carribbean-style hot sauce made in Brooklyn.
The owner of Owl's Brew, "teaologist" Jennie Ripps shares her cocktail-ready tea line.
Allison Robicelli, of Brooklyn's Robicelli's Bakery, shared her delectable cookies and cupcakes — and even a water-only hot chocolate mix! — for hungry browsers at Brooklyn Eats.
Three New York spirits in a row: Brooklyn's Industry City Distillery; Brooklyn's Barrow's Intense Ginger Liqueur; and Hudson Valley's Dutch's Spirits.
Brooklyn Winery topped off a long line of New York state-made spirits, wines, and drink accessories.
Steve and Andy's Organics shares its line of candied orange and lemon peels and chutneys; the organic candy store also has a location in Sunset Park, Brooklyn.
Photo credit: Clay Williams