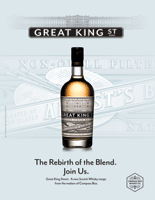 As promised yesterday, we scored recipes for each of the five cocktails that made it through the preliminary round of judging for our Great King Street Cocktail Competition. It's something we're running in conjunction with Compass Box Whisky Company: Great King Street is their brand new Scotch blend designed for making drinks; so we asked local professional mixologists to submit seasonal recipes.
Below is the first of five cocktail contenders: The Red Skies at Night from Max Messier of Whiskey Tango Foxtrot. Messier, a former drinksmaker at No. 7 in Fort Greene, is planning to open a bar on Third Avenue in Gowanus this winter. We think he deserves a few extra points for two locally sourced ingredients and his roving pop-up cocktail hours, which were lucky enough to be invited to a few times over the past year.
We'll be publishing more recipes like this each day this week, so stay tuned until the winners get crowned next Monday.
Red Skies At Night
from Max Messier of Whiskey Tango Foxtrot
Makes 1 drink
1 1/2 oz Compass Box Great King Street
1/2 oz freshly squeezed blood orange juice
1 oz Winter spiced chai concentrate*
4 drops of Dutch's Colonial Cocktail Bitters, made in Brooklyn.
Shake all ingredients and double-strain into a chilled coupe.
* Winter Spiced Chai Concentrate Recipe:
Boil 3 1/2 cups of water. Add the following, stir and let steep: 1/2 cup turbinado sugar; 1/2 cup white sugar; 1 tsp buckwheat honey; 4 tsp winter chai tea blend (from P & S Coffee Tea N Spices on Fifth Avenue in Park Slope); zest of 1 orange; 2 cardamom pods, crushed; 1/2 tsp cassis bark.