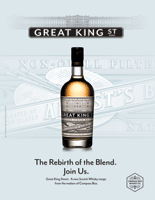 With the hoopla of the holidays out of the way, we wanted to remind you to prod your favorite bartender to enter our Great King Street Cocktail Competition, a collaboration by Compass Box and  Edible Manhattan and Edible Brooklyn to crown the very best cocktail made with Great King Street: Artist's Blend and at least one seasonal ingredient. And to say we've extended the submission deadline to this Friday, January 6th.
We imagine all our readers are pretty skilled when it comes to creating cocktails like these, but this contest is for professionals only, we're afraid: Contestants must be associated with a bar or restaurant of some sort. Those chosen as semi-finalists must make their drink for a panel of tasters on January 23rd in Manhattan, with a winner chosen for both Brooklyn and Manhattan. (Please note, this tasting event is invite-only, although we'll be taking plenty of pictures so we can share any helpful deets for you home mixologists.) The winner will be featured in a full-page ad in the borough in which they've won.  Speaking of cocktails, the winning cocktail will be showcased at our popular seasonal cocktail pairing event, Good Spirits on February 28th.
So, consider this your chance to do your favorite bartender, mixologist or beverage manager a favor (or an excuse to send them an email) and send them here to enter.