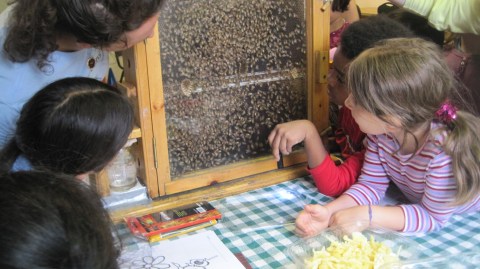 Ask a city-bred kid for their image of a farmer, and they will most probable conjure up Old MacDonald, says Felicia Desrosiers, co-founder of Butter Beans, a company that provides seasonal and locally sourced nutritious lunches to schools. But at Butter Beans' two-week Food and Garden Summer Camp, which runs August 1 through 15, Desrosiers aims to dispel that notion by introducing 7- to 12-year-olds to the varied guises of modern urban farming through educational visits to local farmers' markets and rooftop farms and visits with bee-keepers and chocolate-makers.
Desrosiers, a certified holistic health counselor from the Institute for Integrative Nutrition who also manages a holistic health and nutrition counseling practice, is enthusiastic that her food camp "gets children engaged with their food and where it comes from."  A day camp for budding educated foodies, in other words, the Food and Garden summer camp aims "to inspire the next generation of Alice Waters, Jamie Olivers and Michelle Obamas," says Desrosiers, through hands-on exposure.
The first week of the session is focused around the growing cycle: Campers learn about composting at the Lower East Side Ecology Center in the community garden on East 7th Street in Manhattan; chicken-rearing at The Brooklyn Grange, a rooftop farm in Queens; planting and harvesting vegetables at Eagle Street Rooftop Farm in Greenpoint, and the pollination process with bee keepers from the NYC Beekeeping Association. In July sessions, says Desrosiers, the kids gamely donned bee suits and got up close to the hives, then sampled different varieties of honey.
The second week delves into sustainable production practices with visits to Murray's Cheese caves in Manhattan, a tour of Mast Brothers Chocolate in Williamsburg, and a visit with The Compass Green Truck, a moving garden truck that runs on vegetable oil and teaches youngsters about the sustainable mobile greenhouse.
Everyday, the kids make their own lunches from produce they selected at the farmer's market. In addition, the children talk to the farmers and growers of their lunch directly.  They are given a budget and a nutritional framework of "what makes a healthy plate" says Desrosiers. "At the market, we have a team that goes out looking for roots, a team that looks for leaves, a raw team that sources raw vegetables that are crunchy and raw," she enthuses, "and we make sure that we have protein covered."
Last Tuesday's lunch consisted of homemade salsa and corn chips, golden-eyed beans, rice, sautéed kale and garlic with olive oil, and a colorful salad sprinkled with paneer cheese the kids learnt to make from a session with Murray's. (They boiled whole milk, added vinegar to the mix and squeezed it through a cheese cloth.)
The next Butter Beans session runs from August 1 through 15. Classes run from 9 a.m. to 4 p.m. with drop off and pickup at the Lafayette Avenue Presbyterian Church at 85 South Oxford Street in Fort Greene.  (Early and after care is available, as is a Manhattan drop off and pick up.) The cost is $115 per day and includes daily lunch, snack, camp t-shirt, transportation during the day  and materials, and Butter Beans is currently offering a 25 percent discount. Sign up here, check out their blog, and feel free to email Felicia@ButterBeansKitchen.com for more details or call 718.499.0010 for details.